ABOUT US Nature, health and beauty are the essence of the Gordon Salons. When you visit us, you can count on our careful technique, exceptional customer service, team approach to beauty, and our singular focus on you.
Tony & Pam Gordon - Master Stylists and Co-Owners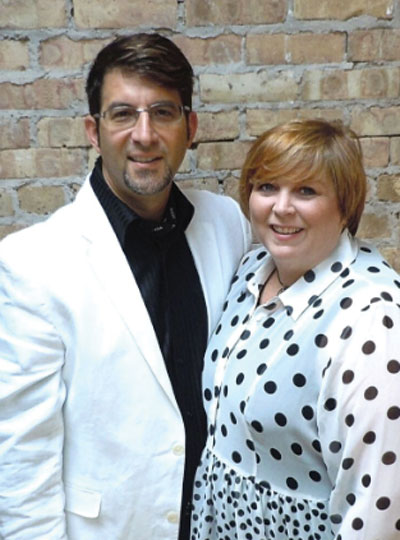 Each person trained at Gordon Salon has extensive knowledge of their field. Our rigorous training programs ensure that we have the best stylists in all of Chicagoland. As one of thirteen Intercoiffure Members in Illinois, we take pride in the fact that all of our hair designers receive expert training which specializes them in both cut and color. Gordon Salon has won numerous awards, including, being placed as Salon Today Magazine's Top 200 Salons in the United States for 13 years, and winning the Chicago Magazine Readers' Choice Award for Best Salon in 2016 & 2017.
You will see the joy we take in our work the moment you walk through the door. We believe in the uniqueness of each guest. Your stylist is able to look at your hair, your desires, and your lifestyle to determine the best way to create your individual look. They're able to look at you holistically and see the big picture, rather than just the parts and pieces. With our team approach to beauty, you can rely on every single member of Gordon Salons to give you an outstanding service, the look you deserve, and make you feel and look amazing.
Your body is sacred, which is why we only use Aveda's naturally-derived products. By tapping into the essences of plants and flowers, we ensure only the healthiest ingredients touch your skin and hair while conserving the planets resources.
We believe in treating ourselves, each other and the planet with care and respect.
We believe social responsibility is our responsibility.
We believe ecological and profit goals are mutually achievable.
We believe our authenticity and experience are our points of difference.
We believe in inspiring and educating people to integrate wellness and beauty in their lives.
We believe in the power of oneness, from our global image to our focused network.
We believe learning never ends.
We believe in encouraging innovation and empowered decision making.
We believe our actions, products and services should embody excellence.
We believe personal and organizational balance is key to sustainable success.
We believe true leadership is delivered with passion and by example.
Beauty and wellness is an integral part of Gordon Salon.